Often, our customers face difficulties with DFU case entering to bypass MDM on their device.
You need to restore your device via DFU ( Device Firmware Update ) mode if you've already activated your Apple device with access to the General menu, like this:
In this case, you need to prepare the device for MDM bypass process by restoring it to the last iOS using DFU mode.
Note: DFU stands for Device Firmware Update which reloads both software and firmware of your device.
Why you need to use DFU mode to prepare MDM locked device for bypass?
The device has been configured to prevent host-pairing, meaning that it cannot be plugged into other computer to be managed or to make changes on it. So, in this case, iTunes or iActivate Software can't recognize your device. Restoring via DFU mode solves this issue.
How to enter device into DFU just in 1 click?
Don't panic! You can easily solve this issue just in 1 click by using ReiBoot. Follow this guide:
Download ReiBoot from the official web site: https://www.tenorshare.net/products/reiboot.html
Install and run the software.
Connect your device to PC:
4. Click "Enter Recovery Mode":
5. You will see Restore mode on the device screen:
6. Run iTunes. Run iTunes. Make sure you've installed the latest iTunes version. Click the Restore button and wait until the restoring process will be completed. Do not disconnect your device.
After Restoring, please activate your device via iTunes.
Your device is ready for MDM lock bypass!
Install and Run iActivate. You will see details of your device like IMEI, Serial and UDID, iOS version. This means that our soft successfully detected your device.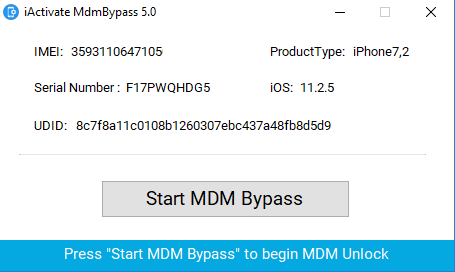 Step 1: Click on Start MDM Bypass.
Step 2: Wait until the device reboots and activate it.